I have always enjoyed nature. I also like to shoot under technically difficult conditions like bright sun, low light, sneaking up on animals, macro, etc. This site is the melding of these two distinct passions.
Doing this for many years, my interest stemmed in part from being fortunate enough to have access to some nice settings in northern Illinois and in northern Wisconsin. Also from having an engineering background where at least some of what I do is detail extraction in complex settings, usually involving high-end video cameras in high-end imaging applications.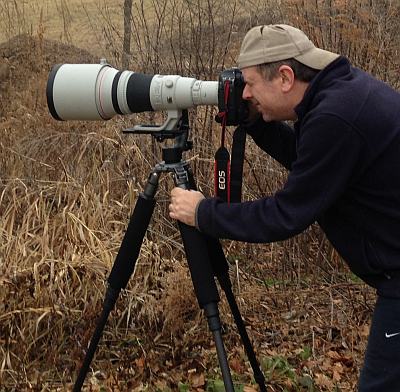 I use Canon equipment and Gitzo tripods. Due to the nature of my photography, I don't do too much with artificial lighting, except in some macro-related situations.
I am not widely published, but have won a few contests, been published in county newspapers, and provide content for several websites.
The photos on this site are generally never staged, which is why you see some odd items occasionally lying about (or occasionally someone or a dog in a scene), and I don't photoshop to enhance or remove objects (except the occasional dust specs on the lens or sensor, that sometimes, although rarely, make it thru to the image… I may remove those if objectionable). My goal is typically to reproduce the vividness and detail present in the actual scene as observed (something the eye is good at, but with cameras, can sometimes be a challenge). I developed, and extensively use, PhotoPageGen (www.PhotoPageGen.com) to generate webpages of my photos for showings to customers, friends, publishing, events, archival, and collaborating with other photographers (pretty much everything I do with photography, except this website… which is much more custom).
My favorite medium for displaying these photos is metal, which works very well for this type of photography (it is very high resolution, and very high quality).  When working with metal, I primarily create 24×16 (there is generally no frame, and this is a perfect size most times). Otherwise, for standard prints, I generally print and frame 20×16 (although can do larger), and for canvas, I can decently make up to 36×24.
Most things on this website can be purchased. However, I plan to get more formal with that in the future by making it simple to do. Currently, you would have to contact me.
Thanks for visiting my site.

Current inventory
The best way to tell me what you think is to comment on any page (including this one... scroll down to "Leave a Comment" and enter something). However, if you don't wish your comments public and don't have my email address, or to inquire about purchasing, please enter your contact details and a short message below and I will try to get back to you as soon as possible.